Getting Comfortable with Dentures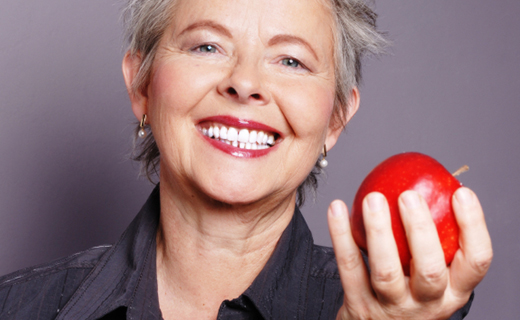 Dentures are among the most affordable options your dentist can provide to replace missing teeth. However, it can take time to adjust to life with dentures. You must re-learn some of the most basic activities, such as eating, speaking, laughing, and even yawning. Dentures will make your life easier, but you have to know that there will be an adjustment period. There are several simple steps you can take to prepare yourself for public life with dentures. By using the following preparation techniques, no one ever has to know that you are a denture wearer.
Talking while wearing denturescan be a new adventure. You will need to spend time in front of the mirror. Watch your mouth movement patterns and practice words that cause your dentures to flap unnaturally. Exercise patience and know that some words may take longer than others to say clearly. Words with "s" and "f" sounds tend to be the most challenging, so you may want to begin your focus there.
A big part of living well with dentures is enjoying the foods you love. The good news is that it is possible to eat a wide variety of foods with dentures; however, like speaking, it takes a little practice. Watch out for sticky foods and very crunchy foods at first. Begin practicing with soft foods, like yogurt and eggs. As you adjust, you can introduce more and more foods.
Grandiose gestures of the mouth, such as smiling, laughing, and yawning, can cause dentures to shift and flap. Denture adhesives can help you avoid these incidents, but so can practice and getting comfortable with your dentures.
One of the keys to a successful life with permanent dentures is denture adhesive. Denture adhesives offer a seal against food debris, keeping your mouth and gums clean. Denture adhesive can also add confidence by preventing movement of the dentures in the mouth. To properly use denture cream, begin with a small amount and add until your dentures are comfortably in place. Remember, a little goes a long way.
Life with dentures will become more comfortable as the days go by. This is the perfect time to start adding more foods to your plate, trying out new words, and even get back to laughing and smiling as if nothing had changed. Getting comfortable with your dentures is important to your mental and physical health.
Talk to an affordable dentist if you notice that your adjustment period is taking longer than a few weeks—you may need a denture adjustment.
To get the dental care you deserve from an affordable dentist in Flint, call Family Dental Group today at (810) 515-8952 or make an appointment.
---
Family Dental Group offers affordable family dentistry and gentle, compassionate dental care in Flint. Our office is conveniently located with extended hours to meet your needs. At Family Dental Group, we provide most dental services, from basic preventative care and general dentistry to specialized procedures and complete dental reconstruction. We accept most dental insurance plans and offer affordable financial solutions for any budget. Patient satisfaction is our top priority and we strive to provide the exceptional, affordable dental care and personal touch that lead to lasting relationships. A smiling patient is our greatest reward and we look forward to keeping those smiles healthy, beautiful, and bright. Discover an affordable dentist who truly cares at Family Dental Group.