Posted under:
General
Posted on: June 13, 2013
Healthy snacks and beverages that could surprisingly harm your teeth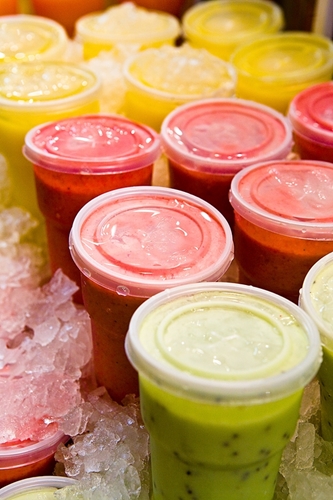 It should come as little surprise that the types of foods you eat on a regular basis can have a significant impact on your overall health. For instance, eating fruits and vegetables can help you manage your weight and get many of the essential vitamins that your body needs. Similarly, the calcium found in milk and other dairy products can build strong bones and joints.
Where your oral hygiene is concerned, eating too many sugary sweets and desserts can lead to cavities, tooth loss and gum disease if you're not good about brushing and flossing regularly. However, you might also be shocked to learn that many foods that are good for your body may not be as healthy for your teeth. Here are a few snacks and beverages to beware of when caring for your pearly whites.
Fruit smoothies
Whether it's a hot summer day and you want to cool down or you're finishing up a workout at the gym, grabbing a cold fruit smoothie can be a
great way to enjoy a nutritious beverage. However, many of these drinks are loaded with sugar, which can lead to the erosion of the protective enamel covering your teeth. The citric acids found in many juices used to make smoothies can also do some harm.
Citrus fruits
As noted above, citric acids can have a negative impact on the health and strength of your chompers. Because of this, you should limit how many citrus fruits – like grapefruits, lemons, limes and oranges – you eat regularly. You may be getting essential vitamins, but you're also weakening your teeth.
Herbal tea
Many people drink herbal teas to help them gain antioxidants to boost their health and immune systems. And while you may know that drinking tea can stain your teeth, many varieties also contain fruits like blackberries and raspberries that can erode protective layers of enamel.