Posted under:
General
Posted on: June 13, 2013
Important information for taking care of your toothbrush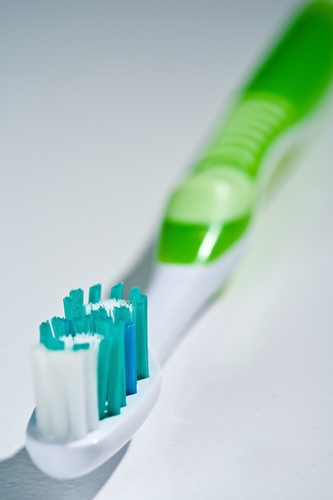 Chances are you spend a good amount of time taking care of your pearly whites – brushing, flossing and rinsing with antiseptic mouthwash twice a day. And while these oral hygiene practices are important for enjoying healthy and strong teeth, are you paying the same attention to the quality of your toothbrush? If you're not watching for signs of wear and tear on your brush, you could be doing your chompers a disservice. Not sure what you should be doing to maintain your toothbrush? Here are three important pieces of information you need to know about your bristles.
Signs of wear and tear
It's likely that you don't remember the exact date you purchased your toothbrush, so you'll need to look for signs of wear and tear to gauge its condition. Elements like missing bristles and frayed tips are obvious indications that you need a new brush. Many types of toothbrushes also feature colored stripes along the sides of the bristles that fade to give you a visual marker when it's time to replace your brush.
Four month rule
Even if your brush is in good shape, it might still be time for a replacement model. Dentist visits may usually occur every six months, but you should purchase a new toothbrush at least once every four months to ensure a healthy mouth. An old toothbrush could contain bacteria and germs that can lead to gum disease.
Cleaning tips
If it's not time for a new toothbrush yet, you should still be keeping yours clean with a couple of key tricks. First of all, you'll want to store your brush in a well-ventilated area standing upright so water and moisture can drain away – this prevents bacteria from developing. Additionally, you may want to rinse your brush with hot water and antiseptic mouthwash to kill any lingering germs.