Smart Strategies for Sensitive Teeth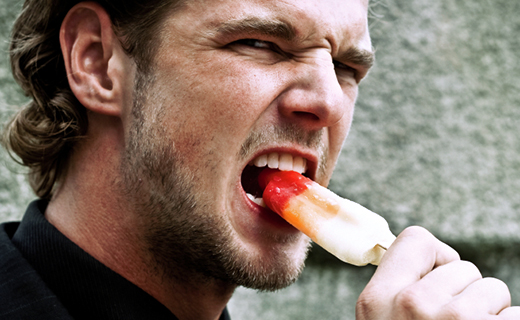 It seems as though just about everyone has had the unpleasant sensation of tooth pain caused by hot or cold drinks, frigid outdoor air or even the everyday act of tooth brushing. For many people, this discomfort is caused by the fact that their tooth enamel has eroded to the point where the dentin and nerves are exposed to irritants. However, to be truly certain of the cause of tooth pain and to find real solutions, it makes good sense to enlist the aid of a dental professional.
Paying attention to the type of toothpaste you use is an easy way to combat sensitivity. There are some formulations that are simply too harsh for those with sensitive teeth, because they contain significant amounts of abrasives. Whitening toothpastes also often contain sodium pyrophosphate, known to exscerbate sensitivity. On the other hand, desensitizing toothpastes made specifically for sensitive teeth can be extremely helpful. Fluoride supplementation can also make a positive difference. Ultimately, selecting a toothpaste targeted toward your specific needs should be a top priority.
When teeth feel sensitive for several days in a row and give pain signals when exposed to hot and cold temperatures, it is probably time to see your affordable dentist. Only a dental care professional will be able to determine whether the pain is due to routine sensitivity or something more serious that requires further treatment. It may be that a cavity or abscess is the true cause of the pain, and in such instances, specialized procedures will be necessary.
However, if the pain is attributable to tooth sensitivity, there are several things that can be done. Your affordable dentist may decide to apply a dental sealant to the teeth that is meant to stand as a barrier to irritants and a way to strengthen enamel. Your family dentistry specialist may also determine that you need a prescription-strength fluoride gel supplement or a commercially-available toothpaste made with strontium chloride or potassium nitrate. The key is to closely follow the dental care instructions provided by your family dentistry practitioner so that the treatments stand the best chance of being truly effective.
To get the dental care you deserve from an affordable dentist in Flint, call Family Dental Group today at (810) 515-8952 or make an appointment.
Family Dental Group offers affordable family dentistry and gentle, compassionate dental care in Flint. Our office is conveniently located with extended hours to meet your needs. At Family Dental Group, we provide most dental services, from basic preventative care and general dentistry to specialized procedures and complete dental reconstruction. We accept most dental insurance plans and offer affordable financial solutions for any budget. Patient satisfaction is our top priority and we strive to provide the exceptional, affordable dental care and personal touch that lead to lasting relationships. A smiling patient is our greatest reward and we look forward to keeping those smiles healthy, beautiful, and bright. Discover an affordable dentist who truly cares at Family Dental Group.