Jim Madany, DDS
General Dentist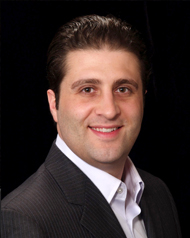 Dr. Jim Madany, a skilled and highly trained dentist, is committed to creating healthy, beautiful smiles for each of his patients. He specializes in a full range of cosmetic dentistry procedures – including veneers, bonding, bridges and tooth colored fillings. He has expanded his range of services to also include endodontics, tooth extractions and dental implants – from single tooth replacement to full mouth implant reconstruction. Whether you are in need of a full mouth restoration or a subtle change, Dr. Madany brings the expertise, knowledge and experience to make your dream of a dazzling smile a reality.
Dr. Madany has been practicing outstanding dentistry for more than 10 years. He completed his undergraduate studies at Michigan State University in East Lansing, MI and then went on to obtain his dental degree at the University of Detroit Mercy School of Dentistry in 2005.
Dr. Madany believes that excellence in dentistry evolves from the relationships he develops with his patients. Only after listening to his patients' goals and concerns does he attempt to address their dental needs. When planning treatment, each patient is an active partner in the decision-making process to ensure that the outcome satisfies their needs and desires in order to get the results they have always wanted.
To keep his skills up to date, Dr. Madany attends numerous continuing education courses, continuums and seminars, to remain at the forefront of cosmetic and restorative dentistry. Presently, he is a member of the American Dental Association and the Michigan Dental Association. He is also a member of the Oakland County Oral Implantology, Implant Study Club.
In his free time, Dr. Madany enjoys attending Detroit Redwings and Detroit Pistons games with his children and traveling with his wife. He also enjoys riding and customizing his Harley Davidson on summer days.